When looking for a four-legged friend, there's always a debate on whether to get a new puppy or adopt an adult dog. New pups are like a blank canvas, ready to be shaped to their human's personality. There's something so rewarding about training a puppy and bringing them into adulthood. However, it takes a diligent and patient human to shape them correctly. Training an adult dog can be more difficult in some ways, but you know what you're getting when it comes to the dog's demeanor and personality. So, what is the difference between training an adult dog and a puppy?
Training a Puppy
One of the main differences between training a puppy and a dog is the speed at which puppies pick up tricks. Puppies are very quick to learn and pick up tricks. They offer a clean slate and are usually very willing and excited to please their person. While puppies pick up tricks faster, they have much shorter attention spans than older dogs. This means all commands need to be executed quickly and with great consistency for them to stick in the puppy's mind.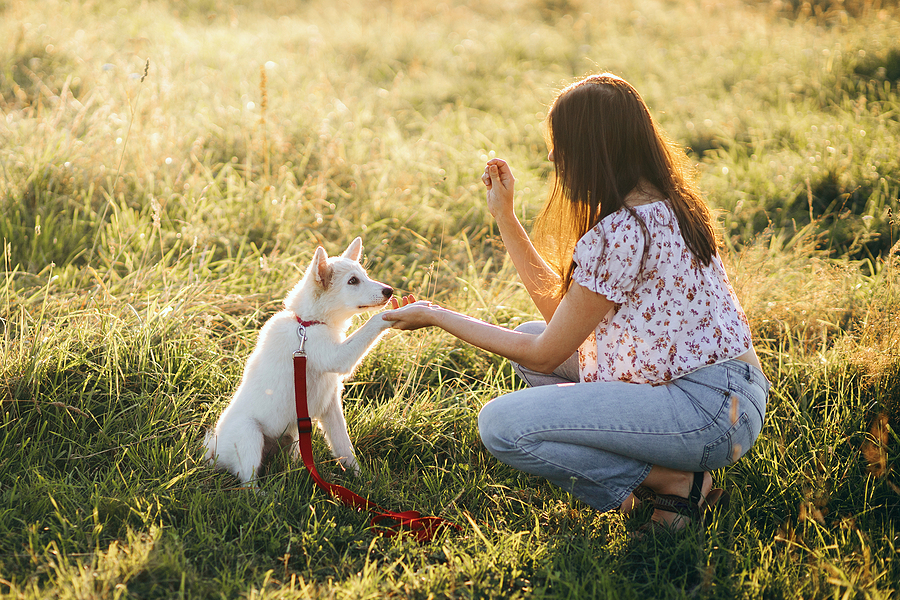 You will also need to diligently monitor a puppy to see how they are socializing with the world around them. While a puppy may be able to perfectly execute commands, that doesn't mean much when they aren't socialized properly or develop problematic behaviors. You will need to observe them and see how they interact with people, older dogs, and children. Some puppies are more aggressive while others are more submissive. You need to be able to pick up on negative socialization habits and stop them as quickly as you can.
Even if the puppy won't normally be around children, it's important to introduce them to the situation while training a puppy to make sure they are socializing properly. Children can make puppies nervous and cause them to act out. Any aggression toward children must be quickly identified to modify the behavior.
Training an Adult Dog
While the old saying "you can't teach an old dog new tricks" is not true – it is definitely more difficult than while training a puppy. It takes a bit more diligence and patience to train an adult dog to follow commands but it is far from impossible. Crate training is an often-used method for housebreaking an older dog so it may be a good idea to speak to a dog behaviorist on the best way to crate train them. Older dogs have stronger bladders which makes toilet training much easier than a puppy who is always about to burst.
The trouble with training an adult dog is that you may have years and years of established negative behavior. It can take much longer to break bad habits than it does to establish good ones. However, the flip side is also true. You could adopt an adult dog that is already properly socialized and requires minimal training. It's a good idea to play with the adult dog and observe their obedience before choosing them for adoption.
Training A Puppy Or An Adult Dog
No matter their age, some dogs just have more trouble than others when it comes to training. Sometimes it's best to look into professional dog training – but you need to go to a trainer you can trust. Beau's K9 Academy is here to help you properly train your puppy or adult dog. We offer an array of other dog training services like behavior modification, in-home training, puppy training, and even advanced search and rescue training. For the very best dog training in New Jersey, contact Bea's K9 Academy today.